2023 barely begun, and we've already got some exciting news to announce. RealWear, the leader in advanced voice-operated wearable technology and assisted reality solutions, has launched its new device. A successor to the widely appraised Navigator™ 500, the Navigator™ 520 is ready to get down to work.
What's new in the Navigator series?
The new device addresses users' needs and eliminates some of the recognized issues. Bigger, sharper, bolder. That's the catchphrase advertising the new piece in reference to the advanced display.
The HyperDisplay – is it worth the hype?
The new viewing system is a shift toward better viewability. The screen is 20% larger than the sister model, extended just enough to see digital content in detail and maintain awareness of the surrounding environment. The doubled resolution, increased hue saturation, and more accurate color representation all serve the same purpose – comfort in use without missing a detail.
RealWear Navigator 520 specifications
| | |
| --- | --- |
| Display | 24° field-of-view, 24-bit color LCD, 0.35-inch diagonal, visible outdoor |
| Field of view | 20 degrees |
| Weight | 270 g |
| Operating system | Android 11 (AOSP) + WearHF™ hands-free interface + Enterprise features |
| Voice control | 15 languages (19 with dialects) |
| Audio | 4 digital microphones with active noise cancellation, accurate voice recognition in noise up to 100 dBA, Internal 94 dBA loudspeaker |
| Memory | 64 GB internal storage, 4GB RAM/MicroSD slot (ip to 512GB cards) |
| Camera image | 48 MP Sensor, PDAF with LED flashlight |
| Camera video | Up to 1080p @ 60fps, >6X zoom in HD, video stabilization. codecs: VP8, VP9, H.264, H.265 HEVC |
| Security | Qualcomm® Trusted Execution Environment, Crypto Engine, Secure Boot |
| Resolution | HD (1280X720) |
| Battery | 2600mAh, hot swap |
| Physical buttons | Power button (with integrated fingerprint sensor), Programmable: action button, left button, right button |
| Mounting | Compatible with helmets, safety glasses, can be worn independently |
| Noise cancellation | Active noise cancellation, up to 100 dBA |
| Head movement tracking | 3 IMUs (including 3-axis accelerometers, gyroscopes, eCompass) |
| Resistance | IP66 grade, dust and water-resistant, MIL-STD-810H, dust-tight, -20° C to +50°C temperature range, resistant to streams of water and 2 meter drops onto concrete |
| Boom arm | Adjusts six ways for most head sizes, left or right eye compatible, display can be moved out of way when not in use |
| Other features | 662 Snapdragon, Autofocus, face detection, companion app, calculator, pedometer |
| Accessories | Workband, USB Type-C charging cable |
| Warranty | 1 year |
| Price | $2900 USD |
RealWear 520 use case
The most intuitive use cases of the 520 model include remote support, performing maintenance and service procedures, and efficient operation execution in industrial environments. Just like the Navigator 500, the new appliance is the go-to device for frontline workers in various industries.
From remote inspections of machinery to conducting training (e.g., health and safety, fire safety), to predictive maintenance operations, the Navigator 520 is a powerful ally to industry professionals. For more use cases of the wearable device, visit the manufacturer's site.
RealWear 520 benefits
All advantages of the industrial-grade AR applications are within arm's reach. The new headset is exactly what target users need: a fully hands-free modular device enabling safe and convenient work in all sorts of conditions.
Benefits of utilizing RealWear 520:
Greater detail and user comfort
A larger, high-definition display provides sharper resolution and crystal clear detail. With the enhanced surface, 20% better HD definition, and a larger eye box, wearing the new device is less tiring for the eyes. An extended eye relief allows users to position the display further from their eyes for better viewing of the screen. The boom arm remains adjustable and can be moved out of sight when not used, with the device remaining mounted on the employee's head. Lightweight and almost imperceptible, the Navigator is ready to serve day-long shifts.
Modularity
Continuing the line set by the first Navigator, modularity is a feature shared by its successor. Thanks to its compatibility, one device can answer various needs in an instant. There's no need to carry and operate several headsets. Once a particular function is required, the module in question can be attached to RealWear. In no time, technicians are ready to proceed with their duties.
Performance
Hands-free operations and 200 applications optimized for voice control make the assisted reality device a versatile tool. With the new display, the device can be used in low light settings, while the hot-swappable battery allows continued performance without halting work once the battery runs down.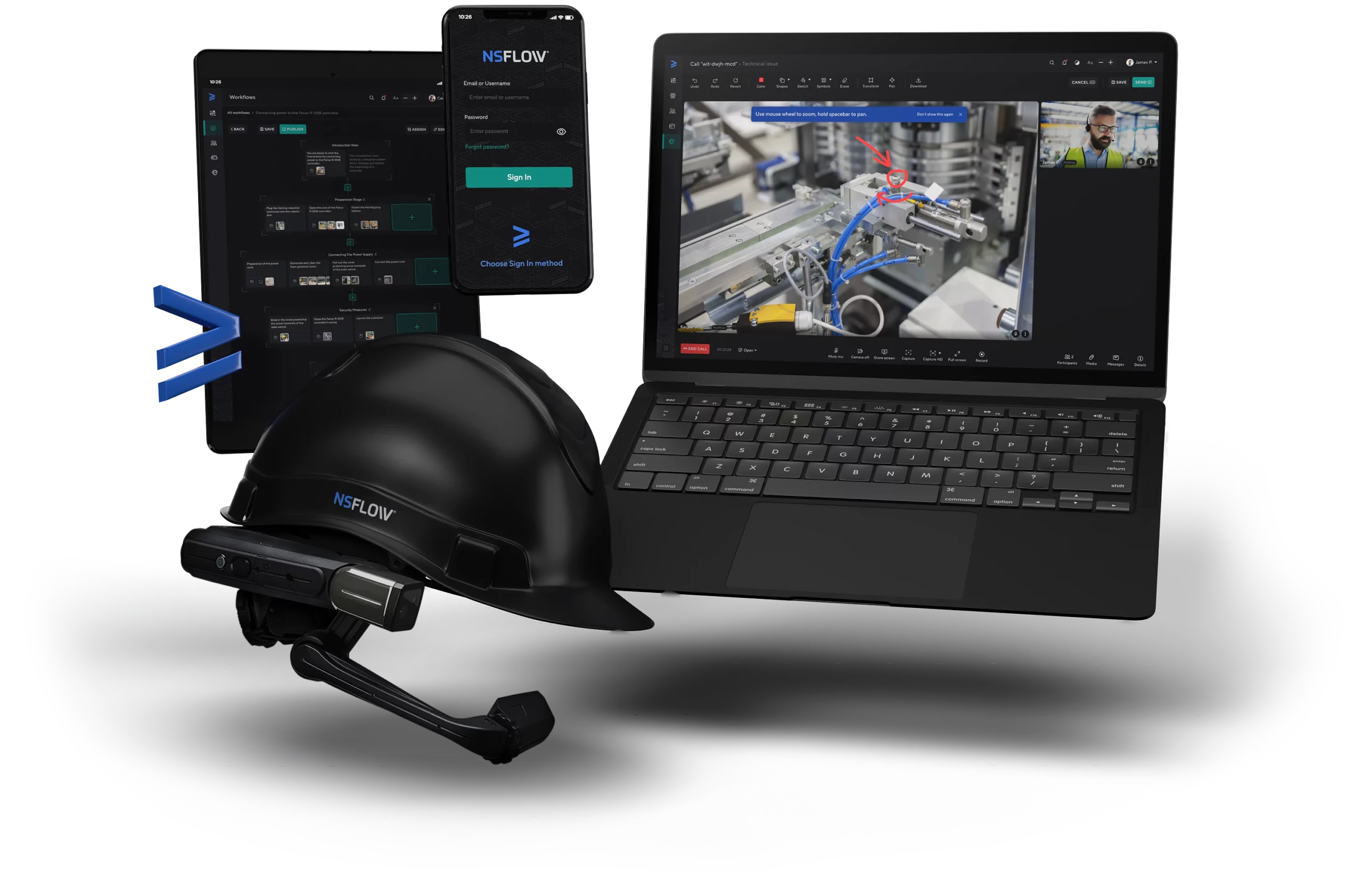 Book a demo
presentation to try
Nsflow in action
The takeaway
So, taking into account all the above, is the new release from RealWear a significant improvement to the wearable devices offer? We're giving the Navigator 520 two thumbs up. The AR headset is a well-thought-out supplementation to the existing range.
What we consider a great plus – the 520 model doesn't try to fix what isn't broken. The urge to correct what's already working well is tempting but often leads to overdoing, leaving users disappointed in the new upgraded models. Navigator 500 is still a top-notch wearable piece of technology, and the subsequent release improves only those features, which actually needed enhancements. Being an advanced and undoubtedly beautiful piece of technology, it is what it's meant to be – a ruggedized tool designed to support frontline workers.
The Navigator series remains the most relevant, industrial-grade assisted reality range of devices, continuing the trail once paved by the HMT-1 and HMT-1Z1 wearable technology. For further information about the RealWear Navigator 520, the Thermal Camera module, and more, register here for the upcoming webinar held on the 19th of January by the manufacturer. In case of interest in digital transformation opportunities for your company and the ways RealWear's devices can help streamline the process, do not hesitate to contact us. We're here to answer your questions.