Augmented reality, the technology enabling the connection between real-world experiences and digital content, relies heavily on proper devices. Providing future-proof software to supplement reality with functional elements is just half the battle.
But first, a quick recap.
What are AR glasses?
Wearable devices are capable of displaying digital content before users' eyes, without cutting off contact with the surrounding world. Smart glasses vary in size, complexity, and usage. The more advanced pieces are a go-to solution for experts, especially in demanding environments.
The hard part comes with professional use cases, especially in heavy-duty applications when both, operators and the equipment are exposed to harsh conditions. Industries such as mining, manufacturing, aerospace, construction, and oil and gas processing, increasingly adopt AR in their operations. The margin of error is very narrow and safety requirements are strict. Below you will find an overview of the most robust and rugged devices, suitable for providing AR assistance to industry workers. Whether it's knowledge management, remote support, or maintenance processes, these devices are technicians' best friends.
How do AR glasses work?
Sure, it's possible to benefit from AR using everyday devices like smartphones and tablets. However, wearable pieces offer the best experience and convenience, crucial in industrial use cases. But how do AR glasses work? The advanced wearable technology is a substitute for numerous tools and solutions used while carrying out processes the traditional way – paper manuals, hand-held cameras or traditional communication devices, and multimedia projectors.
AR industrial smart glasses (in this case, models suitable for professional use) share most of the features. A display for presenting the digital content, a camera for spatial orientation and recording the surroundings, microphones and speakers for verbal communication, and convenient mounting (usually reminiscent of traditional glasses). Devices built with the industry in mind should offer resilience to harsh conditions, greater ability to withstand damage compared to everyday equipment, compatibility with safety equipment, and full mobility. Users can operate most glasses with voice commands and gestures without interrupting work.
So much for the introduction, here's the beef:
The best industrial-grade AR glasses 2023
A subjective yet informed choice of augmented reality glasses suitable for professional use in industrial environments
RealWear Navigator™ 500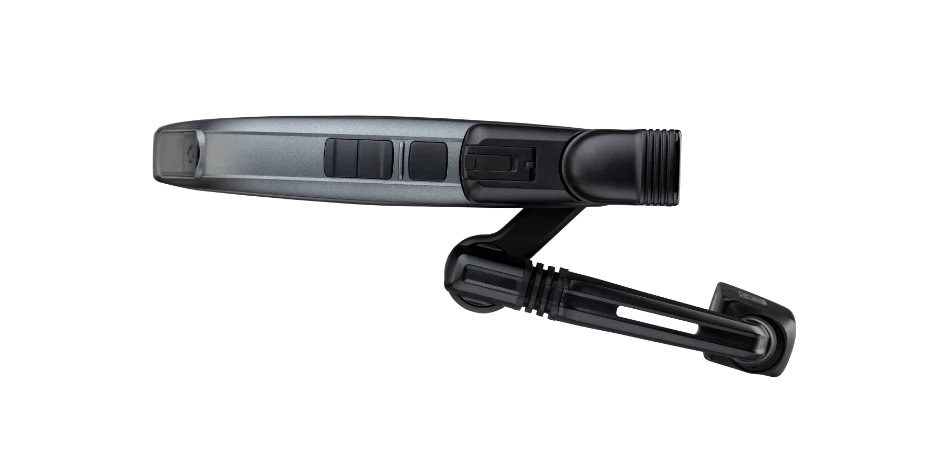 The cutting-edge piece from advanced tech providers, well-recognized for previous glasses (HMT-1/HMT1Z1) premiered in late 2021 and instantly gained acclaim among users. A convenient boom arm, a fingerprint sensor, hot-swappable battery, and high resilience to harsh conditions make it the perfect equipment for industry professionals, no matter the working area. The RealWear Navigator 500 is the Next Generation Industrial Strength Assisted Reality Solution, and as such, it's definitely a smart choice for working in the most demanding industries. Rugged and lighter than its predecessors, the Navigator can handle day-long shifts. The modular construction allows for personalization according to individual needs.
Specs:
| | |
| --- | --- |
| Display | 0.32", WVGA 854×480 px |
| Field of view | 20 degrees |
| Weight | 270 g |
| Operating system | Android 11 |
| Voice control | 15 languages (19 with dialects) |
| Physical buttons | 3 programmable buttons |
| Mounting | Compatible with helmets, safety glasses, can be worn independently |
RealWear Navigator™ 520
The newest release from RealWear comes with a HyperDisplay. A new viewing system is a shift toward better viewability. With doubled resolution, increased hue saturation, more accurate color representation, and a screen larger by 20% compared to the previous model, the new Navigator offers comfort in use without missing a detail. Similarly to the 500 model, the 520 is a go-to device for frontline workers in various industries.
Specs:
| | |
| --- | --- |
| Display | 1280 x 720 px, 24-bit color LCD, 0.35-inch diagonal, visible outdoor |
| Field of view | 24 degrees |
| Weight | 270 g |
| Operating system | Android 11 (AOSP) + WearHF™ hands-free interface + Enterprise features |
| Voice control | 23 languages and dialects |
| Physical buttons | Power button (with integrated fingerprint sensor), Programmable: action button, left button, right button |
| Mounting | Compatible with helmets, safety glasses, can be worn independently |
RealWear HMT-1Z1
The predecessor to the Navigator series, HMT-1Z1, a sister model to the HMT-1 devices, is the world's first intrinsically safe wearable computer designed with the industry in mind.
HMT-1Z1 meets Class 1 Division 1 and ATEX & IECEx Zone 1 certification, making it a safe companion for workers in hazardous environments. The device poses no ignition risk in potentially explosive areas and is used by professionals in the oil and gas industry, electric battery servicing, chemical plants, and other industrial facilities.
Specs:
| | |
| --- | --- |
| Display | 0.33", WVGA 854×480 px |
| Field of view | 20 degrees |
| Weight | 430 g |
| Operating system | Android 8.1 + WearHF™ hands-free interface |
| Voice control | 12 languages |
| Physical buttons | On/Off, app-specific action key |
| Mounting | PPE Compatible, suitable for safety helmets, caps, and goggles |
| Compliance | ATEXII 2G Ex ib IIC T4 GbII 2D Ex ib IIIC T135°C Db IP6XIECExEx ib IIC T4 GbEx ib IIIC T135°C Db IP6XNEC500Class I, Division 1, Groups A, B, C, D T4Class II & III, Division 1, Groups E, F, G T4 |
Microsoft HoloLens2
Appreciated by global tech giants like Airbus and NASA, HoloLens 2 carries a great potential for manufacturing staff. Smooth real-time collaboration, spatial mapping, 6-degrees-of-freedom (6DoF) tracking, and dustproof certifications make the mixed reality device a smart choice for professionals. Great for working indoors, as outside conditions may harm the device and the display works best against darker backgrounds. The HoloLens 2 augmented reality goggles are compatible with protective gear (requiring a hardhat adapter) and operable while wearing safety gloves.
Specs:
Display
2k 3:2 light engines
Field of view
43 degrees
Weight
566 g
Operating system
Windows Core OS
Voice control
Built-in voice commands, 7 languages
Physical buttons
Brightness, volume, power buttons
Mounting
Headband, compatible with hardhats
(using a dedicated hardhat adapter)
Iristick.G2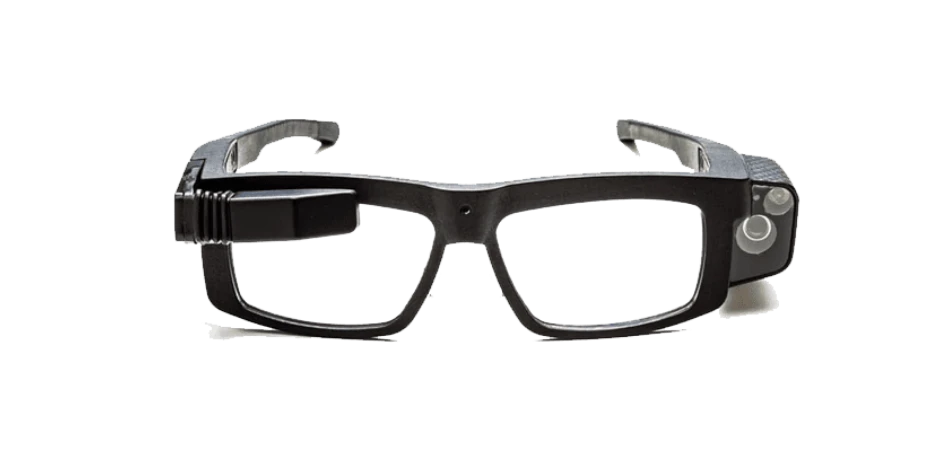 Smart glasses meet safety glasses. Equipped with a central camera with a broad field of view, optical zoom, and a barcode scanner, the G2 is a convenient work companion allowing easy communication and information sharing. The wearable device is connected to the smartphone with a cable, using its battery and operating system. The cable might be considered an inconvenience, but with the phone's long-life battery, the Iristick.G2 can easily cover day-long working shifts. The device's battery has a nominal capacity that allows for working 8 hours straight, providing the glasses are connected to the smartphone during operation. Certificates and compliance: CE, FCC, EN60950, EN55032-CISPR32 Class B ITE, IEC 60825-1, EN 166 S certified, FDA
Specs:
| | |
| --- | --- |
| Display | 16MP 4:3 aspect ratio |
| Field of view | 3-axis adjustable display |
| Weight | 157 g |
| Operating system | Compatible with Android 8 or higher, iOS iPhone® 8 or higher with iOS 12.0 or higher |
| Voice control | Multilingual voice commands (ANC up to 90 dB) |
| Physical buttons | Phone controlled by cable |
| Mounting | Smart glasses |
Google Glass Enterprise Edition 2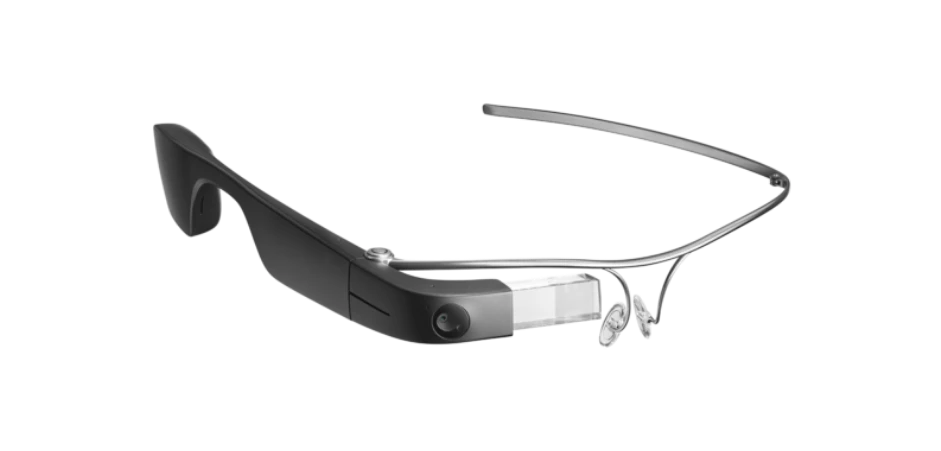 Google's AR smart glasses allow efficient real-time cooperation, streaming meetings, integrating instructions, they can also serve as safety glasses unless heavy-duty protection is required. The digital content is displayed above the natural line of sight, enabling unobstructed viewing. Thanks to its lightweight, the Google Glass Enterprise Edition 2 is suitable for day-long use without causing discomfort to the operator. However, the device may require an external battery during intense usage.
Specs:
| | |
| --- | --- |
| Display | 640 pixel x 360 pixel RGB |
| Field of view | 83° diagonal field of view |
| Weight | 51 g |
| Operating system | Android Open Source Project 8.1 |
| Voice control | Built-in voice recognition |
| Physical buttons | Camera button/release switch, on/off button, selection button |
| Mounting | Smart glasses |
The list of recommendable smart glasses for industrial environments could go on and on, as various models answer various needs. Even devices considered too delicate for heavy-duty usage can be applicable when chosen for the less demanding areas of industrial operations. However, the provided list of selected picks of augmented reality glasses presents their potential sufficiently well.
Industrial-grade is not everything
While most of the devices we are interested in are industrial-grade, there are some lighter designs worth considering. After all, what we picture when we think of industry (production lines, loud and hazardous environment) is not the whole picture. When working in less demanding conditions, or indoors and at the desk, less rugged wearable pieces can fully suit your professional needs.
Magic Leap 2
Believed to be the most immersive AR device available, offering up to 70° field of view. A lightweight, ergonomic design and platform-level support enabling cloud autonomy and data privacy make it a practical, immersive tool for professionals. Thanks to the IEC 60601 certification, Magic Leap 2 can be used by doctors in operating rooms and during other medical procedures. Overlaying digital data before the user's eyes eliminates the need for looking away at computer screens. The device allows doctors to monitor vitals and access live information mid-operations, with eye tracking following the user's focus.
Specs:
| | |
| --- | --- |
| Display | 1440 x 1760 pixel resolution120 Hz refresh rate20 to 2000 nits brightness37cm to infinity range of operation |
| Field of view | Up to 70 degrees (44.6 x 53.6 x 70°) |
| Weight | 260 g |
| Operating system | Magic Leap OS (AOSP) |
| Voice control | System functionality "wake"In-Application voice intentText-To-Speech |
| Physical buttons | External, dedicated controller |
| Mounting | Smart glasses |
Vuzix Blade 2
A relatively simple device with a limited scope of use, but convenient and comfortable for the user. The Blade 2 maintains advantages of the previous model, like the ultrabright waveguide optics, and is well-suited for professional adoption with various applications. With full UV protection lenses, ANSI Z87.1 safety certifications, and broad WiFi capabilities, the device is a functional tool for remote collaboration, work instructions, and real-time data streaming.
Specs:
| | |
| --- | --- |
| Display | 480×480 color display, 1:1 ratio |
| Field of view | 19 degrees |
| Weight | 90 g |
| Operating system | Android 11 |
| Voice control | 12 languages |
| Physical buttons | Touchpad |
| Mounting | Smart glasses |
Vuzix M4000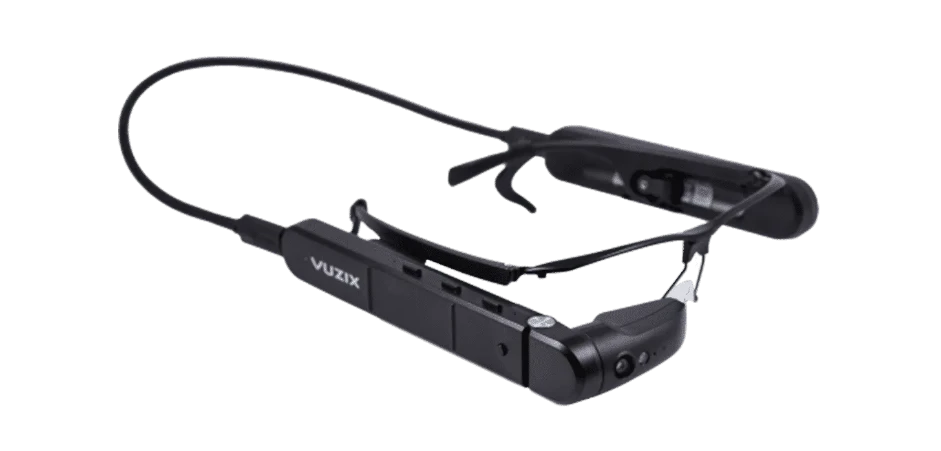 One of the lightest devices on the market, the M4000 is great to cover day-long shifts.
And with a hot-swappable battery, it can work as long as you do without the need to turn it off once it runs out of energy. On the downside, its built-in pad may be difficult to operate while wearing protective gloves and the voice control can be insufficient in noisy environments. This makes it a more suitable device for industrial use in areas requiring less workwear, e.g. training and service procedures.
Specs:
| | |
| --- | --- |
| Display | DLP, 16:9, waveguide |
| Field of view | 28 degrees |
| Weight | 222 g |
| Operating system | Android 9 |
| Voice control | Customizable, 6 languages |
| Physical buttons | 3 control buttons |
| Mounting | Compatible with hats, helmets, face shields, glasses |
How to start using industrial-grade AR glasses?
We'd say – just put them on. Even industrial-grade AR smart glasses are intuitive and easy to master. Within minutes, you'll be able to use augmented reality in your industrial processes.Do you want to learn more beforehand? Just drop us a line, and we'll be happy to assist you in choosing the most suitable AR solution for your industry.
Are you planning to boost your operations and support technicians with augmented reality and don't know where to start? Worry not, we're here to help. Sign up for the free 14-day trial and try out the augmented reality platform, along with the suitable device. The future is here, don't let it wait.