Microsoft HoloLens 2
Mixed reality smart glasses developed by Microsoft premiered in late 2019, as a successor to the piece of technology that debuted 3 years prior. The head-mounted device is designed to bring value into workers' life, improving tasks carried out daily in various industries. From sales staff, teachers, to construction workers, employees on manufacturing plant floors – the possibilities are endless. One of the key areas to employ HoloLens 2 is advanced training using augmented reality, guiding trainees through digital workflows in their workspace.
With 6 degrees of freedom and spatial mapping, HoloLens 2 is not just an entertainment device (however its motion-tracking technology is strongly connected with Xbox Kinect), but a trusty working partner. Entities like Airbus, Lockheed Martin, and NASA appreciate HoloLens 2, proving its usability for a demanding audience.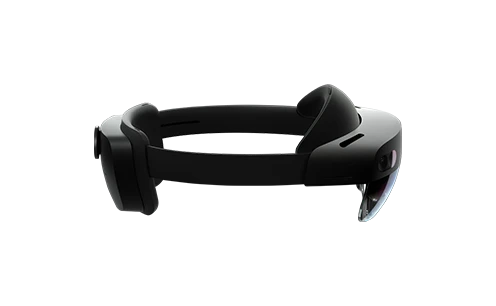 Specs:
Display
2k 3:2 light engines
Field of view
43 degrees
Weight
566 g
Operating system
Windows Core OS
Voice control
Built-in voice commands, 7 languages
Physical buttons
Brightness, volume, power buttons
Mounting
Headband, compatible with hardhats
(using hardhat adapter)
When is Microsoft HoloLens 2 the best choice?
The device is a suitable piece of equipment for indoor procedures, due to sensitivity to factors like humidity. HoloLens 2 is the right option for carrying out hands-on training in controlled environments. The Microsoft-developed headset allows for displaying tutorials and instructions right before users' eyes, making them a suitable option for on-the-job training and onboarding. The Mesh framework enables shared AR experiences (also cross-platform), allowing users to collaborate freely.
Advantages of HoloLens 2
The device operates in temperature ranges 10 °C to 35 °C. HoloLens 2 is dustproof, as confirmed by the IP 50 rating. Built-in spatial sound adds life to holographic models displayed before users' eyes. The audio system mimics the way the human brain processes sounds, offering an immersive experience of the 3D virtual space. Users equipped with HoloLens 2 can pinch to grab 3D assets and use the Air Tap function to manipulate objects in the distance. Digital content can be launched with voice commands expressed in 7 languages. Voice operation works well and allows personnel to choose desired options without taking hands off of performed actions.
When not to choose Microsoft HoloLens 2?
As mentioned before, HoloLens 2 works best indoors. If your operations require mostly outdoors work, the device will be exposed to adverse weather and may sustain damage. Aside from compromising the smart glasses with impairments, working outside decreases the benefits of using HoloLens 2. 3D models and holograms displayed by the device won't be readable enough when shown against bright backgrounds or in strong sunlight. The digital content is better visible when users work in worse-lit areas.
Due to its relatable heavy weight (566g), the device may not be the best choice for constant work during day-long shifts. Another downside of this model is its short battery life (2,5-5,5 hours). The field of view is 43° horizontally and 29° vertically, leaving not much of the outside world in the users' visual field.
Taking into account all the above, HoloLens 2 is best used in short intervals for achieving specific goals and carrying out particular tasks, instead of utilizing it for constant daily work.
Not convinced if HoloLens 2 is the right choice?
Industrial augmented reality is a growing, dynamic field with plenty of options to suit your needs.At the very start of your digital transformation, you can benefit from augmented reality in daily operations using smartphones and tablets. If your industry involves working in the harshest conditions, RealWear Navigator™ 500 may be the right solution.
Still not sure? Let us know! Book your 14-day free trial and try out both the AR platform and a device picked to suit your industry.