What's the first thing flashing before people's eyes when they hear about AR? Most often it's dedicated, advanced wearable devices – augmented reality glasses and goggles.
But is it really the only association? Let's go back a couple of years to the warm summer of 2016, when the Pokémon GO game premiered, convincing millions of people that AR is within the range of everyone carrying a smartphone.
When it comes to utilizing augmented reality in the industry we're on the more utilitarian side, but let's not forget the above vivid example as a guiding idea.
…and AR for all
Augmented reality is an egalitarian technology. Benefitting from its potential isn't restricted to highly trained professionals only nor governed by any restrictive regulations or, to an extent, high costs. Nearly every adult in the US possesses a handheld device nowadays. 83.72% of the global population has smartphones.
Probably the biggest advantage of using common devices, smartphones and tablets, is lowering the tech threshold. Nowadays the prices of said equipment are barely noticeable, making it a solution available to everyone. No need to save up or fall into debt to purchase high-tech dedicated AR equipment if you're not sure your business will adopt it (in case you don't know about the possibility of trying out the free 14-day demo with a pair of industrial-grade AR glasses to try out).
How can AR be used on smartphones or tablets?
Since all modern handheld devices are equipped with at least one camera, users can take pictures or record encountered issues. The device's camera allows overlapping digital layers of information onto physical objects and surroundings, enriching the shots taken.
Smartphones and tablets can be used as both, primary or secondary devices, on the "other side". When using the Remote Support module, on-site technicians can use the equipment of choice (AR glasses or handheld pieces), and remote experts in many cases can provide assistance using smartphones or tablets.
On-site workers direct the device to the problematic item or piece of equipment, pointing their camera towards the source of the issue. Once the picture is taken or footage recorded, the employee can add annotations, drawing over the screen to indicate particular points of interest. Thanks to direct communication, technicians report issues in real-time to remote experts helping resolve issues, based on the received information.
In some cases, if the workplace conditions are suitable, a tablet can be used as a kiosk display. A stationary touch screen device can be installed near certain objects. In such cases, the tablet is usually not entering sleep mode hence available anytime on-site staff needs it. Using AR kiosks is a great support in hands-on training, always in vigilance when new trainees arrive at the station. The tablet becomes a multimedia study aid, covering for traditional paper manuals.
Stationary uses of tablets connected to an AR platform support service and maintenance. Depending on needs, one or more devices can be located in the manufacturing plant in close proximity to machines requiring attention. This way, technicians can easily launch digital workflows regarding proper operations and follow instructions in a linear or non-linear way. Preloaded content (text, graphic, video, 3D models, and holograms) provide more context about the machine's capabilities and display the necessary steps to follow.
The fact that, in most cases, smartphones and tablets are handhelds doesn't prevent industrial workers from using them in environments where hands-free operations are preferred. Construction, service, or maintenance crews cooperate while performing various tasks, and an engineer or team leader equipped with an AR-powered smartphone or tablet can successfully provide guidance to other team members working hands-free.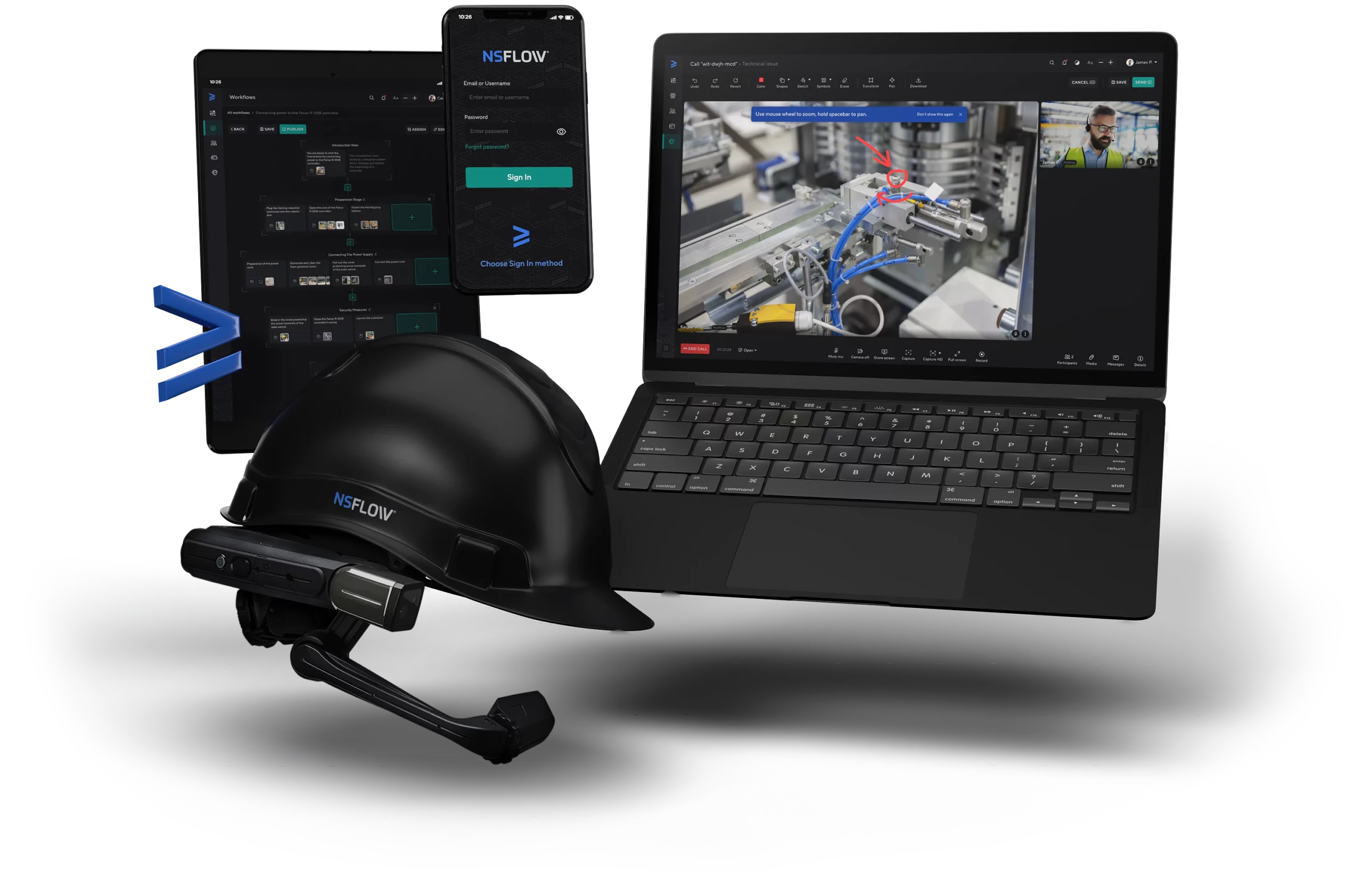 Book a demo
presentation to try
Nsflow in action
Which handheld devices work best with industrial AR?
To experience AR's potential to the fullest you don't need to reach for the newest models entering the market. However, it's worth sticking to devices with iOS 11.0 or Android 7.0 and later operating systems. This generation of devices usually has AR software integrated and should allow efficient usage of augmented reality applications.
Aside from the operating system, when looking for a smartphone with a greater potential using augmented reality check for LiDAR sensors. The Light Detection and Ranging remote sensing method is found in e.g. iPhone 12 Pro, 13 Pro Max, and iPad Pro. Devices equipped with infrared lasers are more precise in determining the depth with greater accuracy, priceless in spatial orientation. Android devices carry this technology as well. Flash-based LiDAR is offered by Samsung smartphones with DepthVision cameras, allowing accurate depth analysis. With a single flash of infrared light, 3D maps of surroundings can be created, contributing to a more in-depth experience. These features are available at this moment in higher-end devices, requiring greater investment in equipment.
What's important is that smartphones and tablets may be more prone to damage while used in industrial environments, compared to wearable equipment. To avoid mechanical failures, handheld devices may require the use of additional heavy-duty protection. Otherwise, depending on on-site conditions, choosing rugged, water, shock, and dustproof equipment is advised.
The takeaway
Smartphones and tablets can be a "gateway technology", allowing companies to assess whether augmented reality is a beneficial solution for their operations. Once the first steps are taken, primary assumptions confirmed, and technicians acknowledge the potential of AR in industrial applications, enterprises can go even further with dedicated devices.
Depending on the work environment and planned scope of work, the choice of AR devices should facilitate the desired processes. There's no one-size-fits-all solution, as both wearable and handheld equipment vary when it comes to their potential and robustness.
If you're about to incorporate AR into your processes and consider starting with a smartphone or tablet, here's a rundown of handheld devices: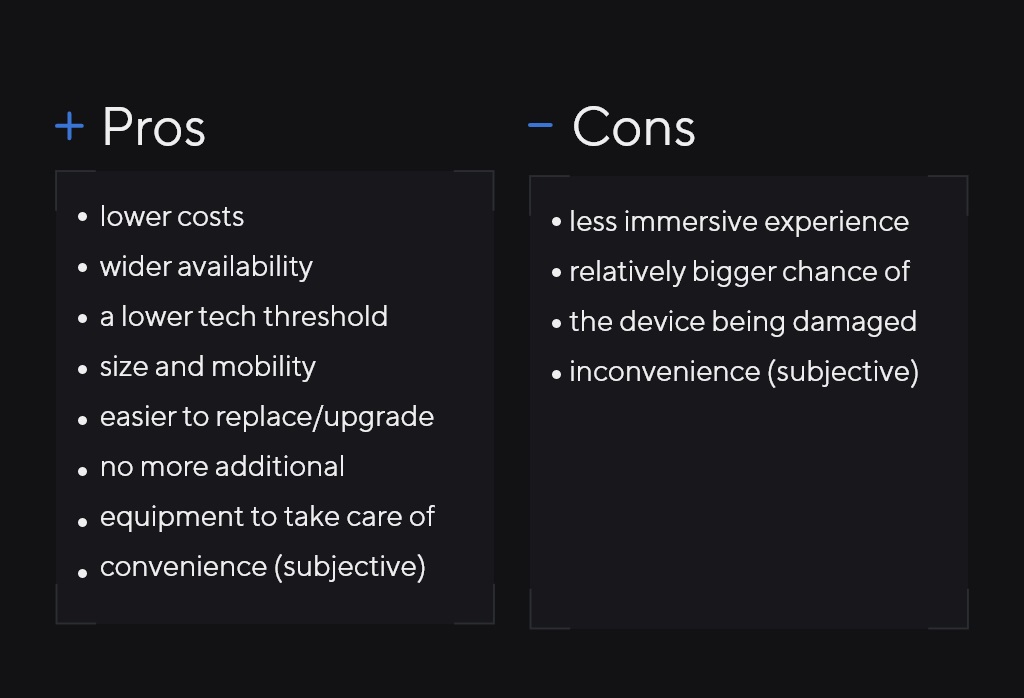 Is the hassle worth it after all? No description captures the surroundings as realistically as we perceive them with our eyes. Using AR in professional settings is a way to improve processes with precise data flow, and handheld devices are here to aid workers with advanced digital solutions.
Setting up smartphones and tablets usually requires only downloading an AR application. Handheld devices reduce start-up time, being up and running within minutes. In case of a possible technological skills gap, common equipment shortens the familiarizing time to the necessary minimum, as most people are acquainted with how the appliances work.
Do you wish to learn more about wearable AR devices, and how the Nsflow platform helps with digital transformation in manufacturing? Try the free demo to see how dedicated equipment can change the way your processes are carried out.