Occupational Health and Safety – what is OHS?
Occupational Health and Safety (OHS) is an integral part of any company's processes. Its management system covers organizations' structure, planning, procedures, resources, and implementation. The above elements are vital for efficient risk control and maintaining OHS standards in the company.
The standards are created for a reason – keeping the working area not only efficient but safe by preventing and reducing the number of workplace accidents and illnesses.
What could go wrong?
Each working environment has its hazards. Half the trouble if they're non-dangerous as a paper cut or some draft in the office. More severe risks lurk in the hospitality field (think: pots of frying grease or incandescent grills), logistics (incorrectly operated forklifts in high-bay warehouses), steelworks (there's some cinematic imagery showing what is better avoided near blast furnaces, e.g., Terminator 2: Judgment Day), agriculture (combine harvesters are truly powerful machines you wouldn't like to be close to if they're operated incompetently), healthcare (exposure to the electromagnetic field, ionizing radiation, laser radiation, formaldehyde, formalin, an array of viruses and bacteria, etc.), manufacturing (a conveyor belt could make a hell of a roller coaster for someone being too close to it at the wrong time).
Employees can fall from heights, break limbs, inhale toxic substances, be electrocuted, be bitten by animals (or even humans), be exposed to excessive humidity or sunlight, or be run over by vehicles. The examples are plenty. To spare you unnecessary gory details of industry-specific OHS hazards, let's focus on the solution, namely, how to improve workplace safety.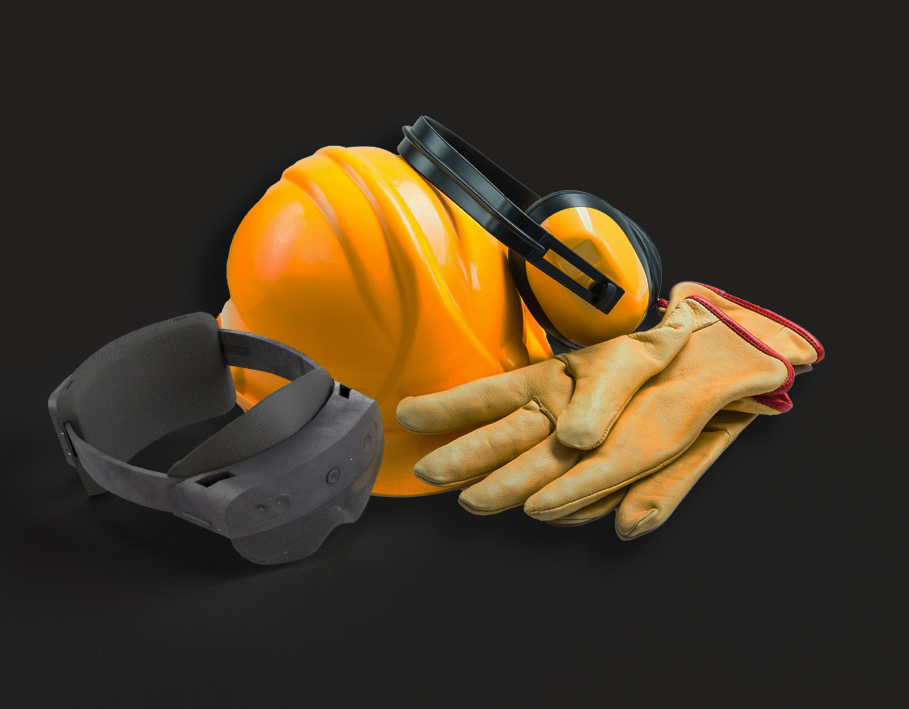 Augmented reality in the workplace
The use of AR in various professional applications is growing, especially in the industrial field. The potential of digital additions to the real world is used in executing predictive maintenance, creating digital twins, and carrying out remote machinery inspections. Aside from the heavily automated areas and fields depending on advanced machines, AR can be successfully applied to other processes – from streamlining onboarding to managing internal knowledge distribution, and providing specialized training.
Augmented reality adds digital elements to the real world, and by these measures, carries great potential for training purposes. Utilizing digital media allows the creation of more engaging content and enables practicing real-life scenarios. Unlike dry training, AR-powered courses are distinguished by improved memorization and help create better muscle memory. Substituting traditional classroom activities, paper manuals, and presentations enables greater efficiency in the future handling of events covered by OHS.
Augmented reality safety training
Hand in hand with virtual reality, AR is being adopted as an efficient tool for carrying out training to improve workplace safety. While VR requires specialistic wearable equipment for the experience to be complete, augmented reality can be used on smartphones and tablets. Dedicated devices, on the other hand, allow immersive, hands-free training.
What does AR safety training look like?
Instructors prepare the training content and upload it to the platform. Each trainee who was granted access can view the courses 24/7. While displaying instructions and viewing the real-life conditions supplemented with digital add-ons, learners see the possible risks and are able to take immediate measures to mitigate encountered hazards. Employing AR in OHS training allows course participants to practice vital procedures step by step. Every piece of equipment that needs to be secured during the shift, a protective device to be worn at all times, all sensors to be checked – everything is presented in an accessible way. Not through the usual mundane presentations, but in the actual workplace, utilizing spatial mapping and supplementing the physical world with digital add-ons anywhere an action is anticipated. The Nsflow platform supports QR scanners and enables trainees to launch subsequent instructions with codes placed around the facility.
The convenience of AR OHS training is not limited to the user's perspective. With platforms like Nsflow, trainers and instructors can spend less time preparing and updating learning content. Once new solutions come into force, actualizing assets takes a moment, unlike in the case of reprinting or supplementing paper manuals. Trainees' progress is visible to admins via the platform panel, indicating course efficiency. Depending on the needs, admins can assign participants with further tutorials or require repeating chapters ended with unsatisfactory results.
Benefits of augmented reality safety training
Thanks to the above advantages, AR is becoming an appreciated training tool, making up for a revolutionary leap in industrial workplace safety.
The augmented occupational health and safety
Where can AR safety training be used? To be fair, everywhere! It isn't confined to industrial enterprises and manufacturing plants. OHS regulations apply to offices, universities, warehouses, clinics, and virtually all companies hiring staff. A digitally created environment mirrors actual conditions and duplicates industry-specific threats and trouble spots. Augmented reality safety training is yet another example of knowledge management in the professional field – along with automated onboarding of factory workers and highly efficient fire safety training.
Utilizing augmented reality in occupational health and safety training undoubtedly translates into better operations. Employees that get a chance to practice realistic scenarios demonstrate greater confidence when facing real hazards at work. Rehearsed desired behavior, proceedings in possible events, handling essential equipment – it's all easy to exercise with the use of AR.