The most advanced wearable device from RealWear, the Navigator 500, caused quite a stir upon its release. The audience appreciated not only its high wearing comfort, low weight, and robustness but also its new approach to functionality.
The ruggedized piece has another ace in the hole – its modular construction. The unusual feature allows users to adjust the Navigator to suit their individual needs. Switching to the optimal configuration is fast and easy, allowing frontline workers to respond to occurring changes on the spot.
A new module for RealWear's industrial-grade glasses entered the market in late October.
Introducing the Thermal Camera Module
The newest release from RealWear is a sleek dual unit including the standard 48 MP camera paired with a thermal sensor camera. The plugin allows users to switch between normal and thermal vision with voice commands, capturing shots of surroundings in the chosen mode.
Developed with Thermal by FLIR, known as the global leader in infrared equipment, the unit offers 5 modes. Among the available options, you get Teledyne FLIR's patented MSX®, adding visible light details to thermal imaging and improving readability. Nextly, pictures can be managed with the FLIR Thermal Studio Suite. FLIR's software carries advanced processing features for in-depth maintenance and troubleshooting analysis of captured images.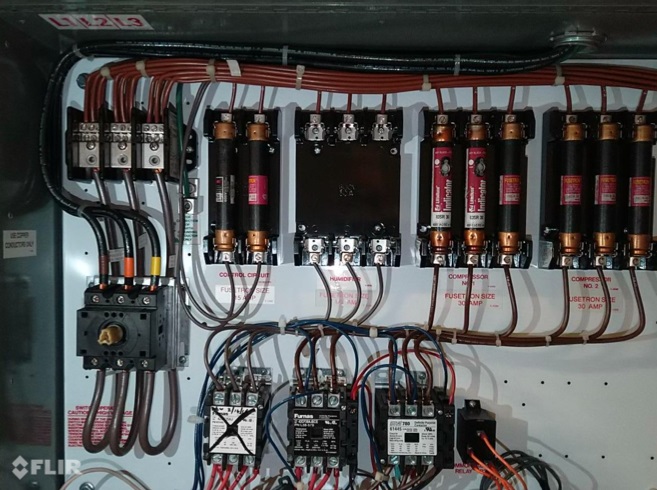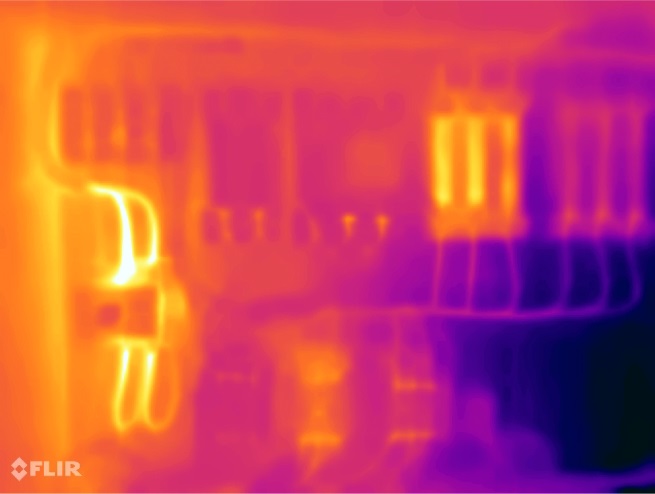 Specifications
Thermal Sensor
FLIR Lepton® 3.5
Thermal Resolution
160×20
Effective Frame Rate
8.7HZ
FOV
57°(H), nominal71°(D), nominal
Object Temperature Range
-20 to 400° C
Spectral Range
8 to 14 µm
Accuracy
High Gain Mode: Greater of +/- 5° C or 5% (typical)
Low Gain Mode: Greater of +/- 10° C or 10% (typical)
For more details on the module visit realwear.com
Visual camera
| | |
| --- | --- |
| Sensor | 48MP sensor |
| Still image | Up to 12MP |
| Video | Up to 1080p, 60fps |
For more details on the module visit realwear.com
How does a thermal camera work?
Thermal cameras capture the image of physical objects or, more accurately, the infrared energy they are emitting. In other words, thermal imaging converts the heat from objects into their visual representation. Thermal cameras don't see through solid obstacles but detect the heat generated by objects. The optical system focuses infrared energy onto special sensors that react to the input and produce an electrical signal in response. Resulting signals create a color map of the object's temperature, with a separate hue assigned to each temperature. Infrared thermal cameras, like those developed by FLIR, can detect even slight changes in heat, as minor as 0.01°C. Such fluctuations are depicted using varied color palettes or shades of grey.
This type of photographic equipment usually carries lower resolution than traditional cameras, as energy has different wavelengths in comparison with visible light. However, worry not; as we've mentioned before, the module in question is a dual-camera unit, coming with a traditional lens as well. Primarily, the technology found its application in the military, but over the years became appreciated across other industries.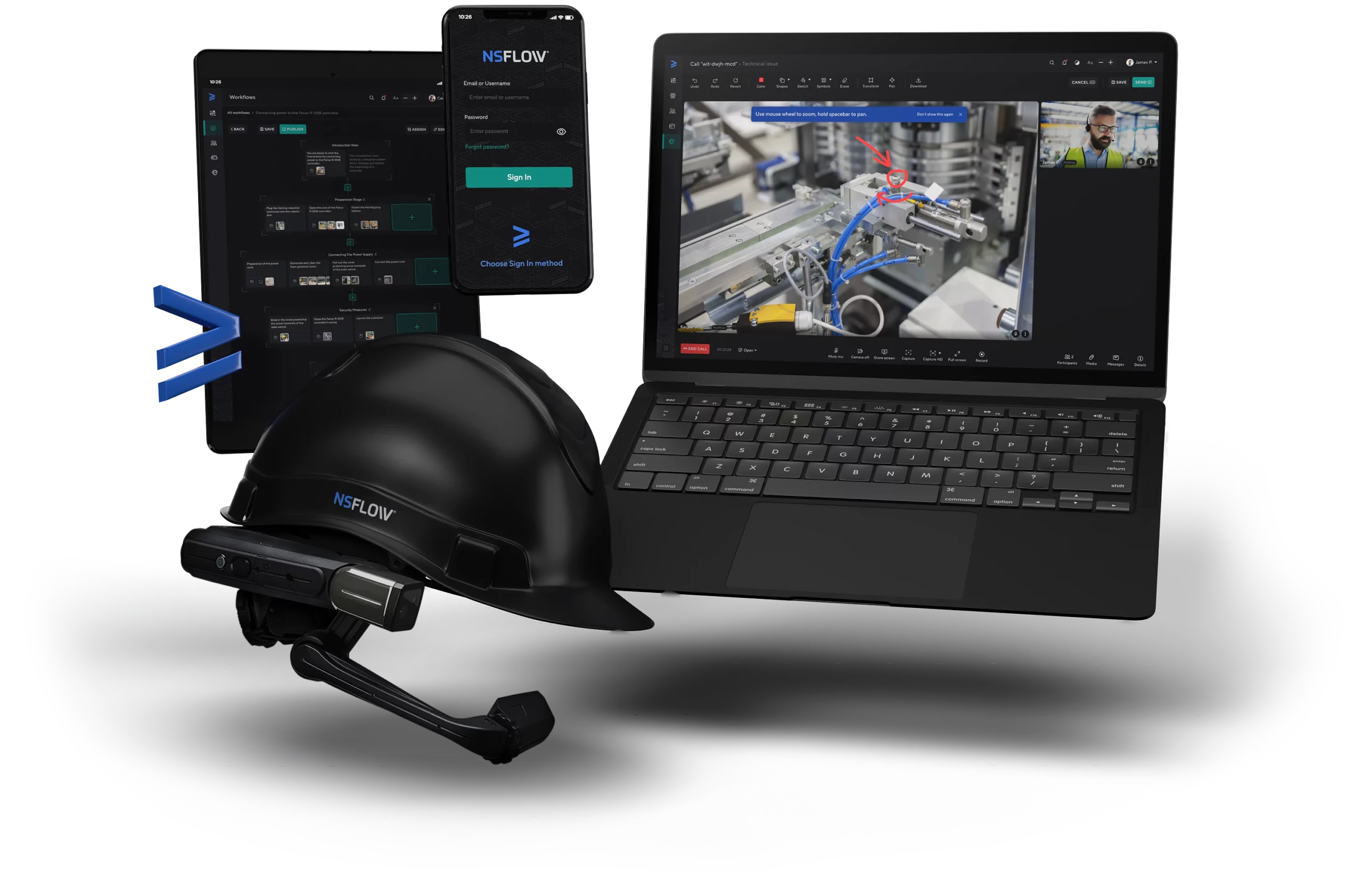 Book a demo
presentation to try
Nsflow in action
Where can the thermal camera be used?
Who will benefit the most from the new module? A thermal heat camera can come in handy in multiple professional environments.
Electric wiring maintenance
Heat detection equipment is used to ensure the highest electrical efficiency in wiring. The better the electrical connection, the lower the resistance between combined pieces. In cases of increased resistance, a phenomenon called ohmic heating occurs, and maintenance technicians utilize thermal imaging to identify the hot spots in wiring and electrical panels.
Gas detection
Industrial applications of thermal cameras include gas leak detection, as piping failures identify temperature differences at the site of the damage. The fluctuations are caused by local pressure variations.
Preventive maintenance of mechanical equipment
Thermographic imagery is a contact-free predictive maintenance method used in detecting, e.g., unusual friction, damaged insulation, and system overloads. Finding areas generating excess heat helps prevent fires and eliminate downtimes due to machinery failures.
HVAC/R inspections
Heating, ventilation, air conditioning, and refrigeration systems require attention in the scope of, among others, thermostat malfunctions, mechanical damage, and uneven temperature distribution. Thermal cameras are a valuable tool in troubleshooting HVAC/R challenges, allowing for early detection of abnormalities.
Thermal audits of buildings
Thermal audits are carried out to assess the energy performance of buildings. Aside from in-person evaluations of the construction's condition, experts use thermal cameras to measure energy losses. Infrared imagery helped identify trouble areas resulting in heat leaks that impact the buildings' performance. With detailed data on existing thermal deficiencies, experts prepare audit reports for future improvements to the energy management of the site.
Firefighting
Thermal imaging supports firefighters in their work during emergency situations. In the fire, soot particles block visible light, letting infrared radiation pass freely. With a thermal imaging camera for firefighters, responders can navigate through the smoke and darkness to battle the fire and rescue persons injured.
Hot or not?
Definitely hot, if you ask us. Equipped with the newest hardware piece, frontline workers are capable of capturing pictures of the working environment without the need to switch devices. Anytime the need for thermal imagery occurs, the new module enables convenient, hands-free operations and seeing the invisible in industrial conditions.