Industry 4.0 didn't pop out of nowhere. Instead, the Fourth Industrial Revolution arose as a trend in manufacturing and production in effect of the ongoing changes in processes as we knew them.
All revolutions have their drivers. In the case of Industry 4.0 the change was powered by artificial intelligence, the Industrial Internet of Things (IIoT), cloud computing, and big data, which paved the path for other disruptive technologies. But buzzwords aside, new developments carry value to the business, and our main field of interest, augmented reality, is no exception.
Augmented reality in Industry 4.0
The Third Industrial Revolution established widely understood electronics and telecommunication, setting pillars for the currently observed transformation powered by increasing interconnectivity and smart automation.
Manufacturing craved efficiency-boosting solutions from the dawn of history. It still does; only the fuel changed from steam to data and digitalization of production techniques. The possibility of digital content overlaying real-life surroundings makes AR more suitable for various applications than virtual reality (VR). Users equipped with dedicated AR wearables (or mobile devices, to an extent) can maintain contact with the environment they work in, while making use of media displayed on screens before their eyes.
AR in Industry 4.0
Utilizing augmented reality for manufacturing process automation is a smart move altogether. Future-proof technologies are among the most efficient solutions to secure market position and keep up with – or even stay ahead of – the competition. While the sole implementation of a random technology won't guarantee success, choosing the most suitable tools based on the recognized needs is the best way to remain a significant player in your industry.
Not all AR solutions are created equal, but we know one thing for sure. Nsflow is a well-thought-out product aimed at fostering Industry 4.0 processes and at the same time streamlining the digital transformation of manufacturing enterprises. We stand by our values and won't settle for less than delivering you a working product to thrive in your industry.
Benefits of Nsflow include but are not limited to:
Versatility
Different business cases can be served using one solution. Comprehensive AR tools like Nsflow find their application across production facilities, improving diverse processes. An all-in-one platform grants a holistic approach to solving multiple business problems with one tool.
Convenience
In relation to the above benefit, comprehensive tools make it easier for enterprises to face their challenges. Just think: one solution to implement, one to convince employees and managers, and one to learn and master. It all translates to less hassle, less time used, and less spending, all of which are achieved with a single offering from one provider.
Customization & low tech threshold
While the AR platform may appear to be an off-the-shelf product at first glance, the truth is we don't just deliver a plug & play package (unless it's what you'd like). You can try out the demo version to see whether it suits your needs as-is, or let us know about your expectations for the AR solution.
At Nsflow, we understand that implementing new IT tools and solutions often entails adjusting your processes, which might generate additional costs. For this reason, our platform goes the extra mile and adapts to your requirements. Thanks to the flexibility, modularity, and customization of the product, the implementation in your facility can be fast and seamless.
Some tools are great, but their complexity becomes a barrier preventing widespread application. The time it takes to master the operations manual may deter future users. Despite high hopes and equally high investments, overcomplicated solutions may be tossed aside as inefficient in the process. The Nsflow platform has a modular construction, and its basic functionalities are quick to master. With minimum formalities, you gain a working solution to try & extend only if you identify the need for doing so.
A wide array of supported devices
The more specialized, the better? Not always (or hardly ever). Augmented reality devices vary in size, complexity, and usage. Deciding on the best device for industrial AR use relies upon internal requirements and conditions. Nsflow is a platform compatible with various devices, allowing future users to try out wearable equipment and choose from the most advanced and rugged pieces. In some cases, a dedicated AR device may not even be necessary – and we're fine with that as well since the platform can be used – to an extent – with common mobile devices.
Added value
AR is an incredible technology, but what makes for its usefulness in manufacturing is a result of several qualities. Years of experience in cooperation with industrial entities and familiarity with the most burning issues faced by frontline workers, experts, and managers, it's all behind Nsflow quality. Utilizing knowledge and understanding, we deliver aid in overcoming real-life challenges and eliminating risks of unproven solutions. Augmented reality in manufacturing requires the right mix of tech and business skills, and that's exactly what we've gathered over the years of cooperation with industrial enterprises.
Integrators
Once more, we emphasize both, cooperation and knowledge. Choosing Nsflow is more than deciding on the best software option. Our solution is proven and appreciated by industrial integrators who are close to the industrial companies, and provide us with valuable feedback on whether it works the way it should. Thanks to direct collaboration with integrators we can deliver joint, dedicated solutions for better addressing manufacturing needs.
Through automation to manufacturing efficiency
Utilizing AR for Industry 4.0 automation makes it possible to boost production efficiency. Shortening processes from onboarding, and hands-on training to executing service and maintenance procedures, augmented reality is all about performance. The manufacturing field always welcomed practical ways of streamlining production. Digital technologies are no exception. AR plays a major role in increasing the productivity of personnel working with advanced manufacturing machinery, facilitates knowledge transfer and management, and finally, enables faster and more efficient response to typical industrial challenges.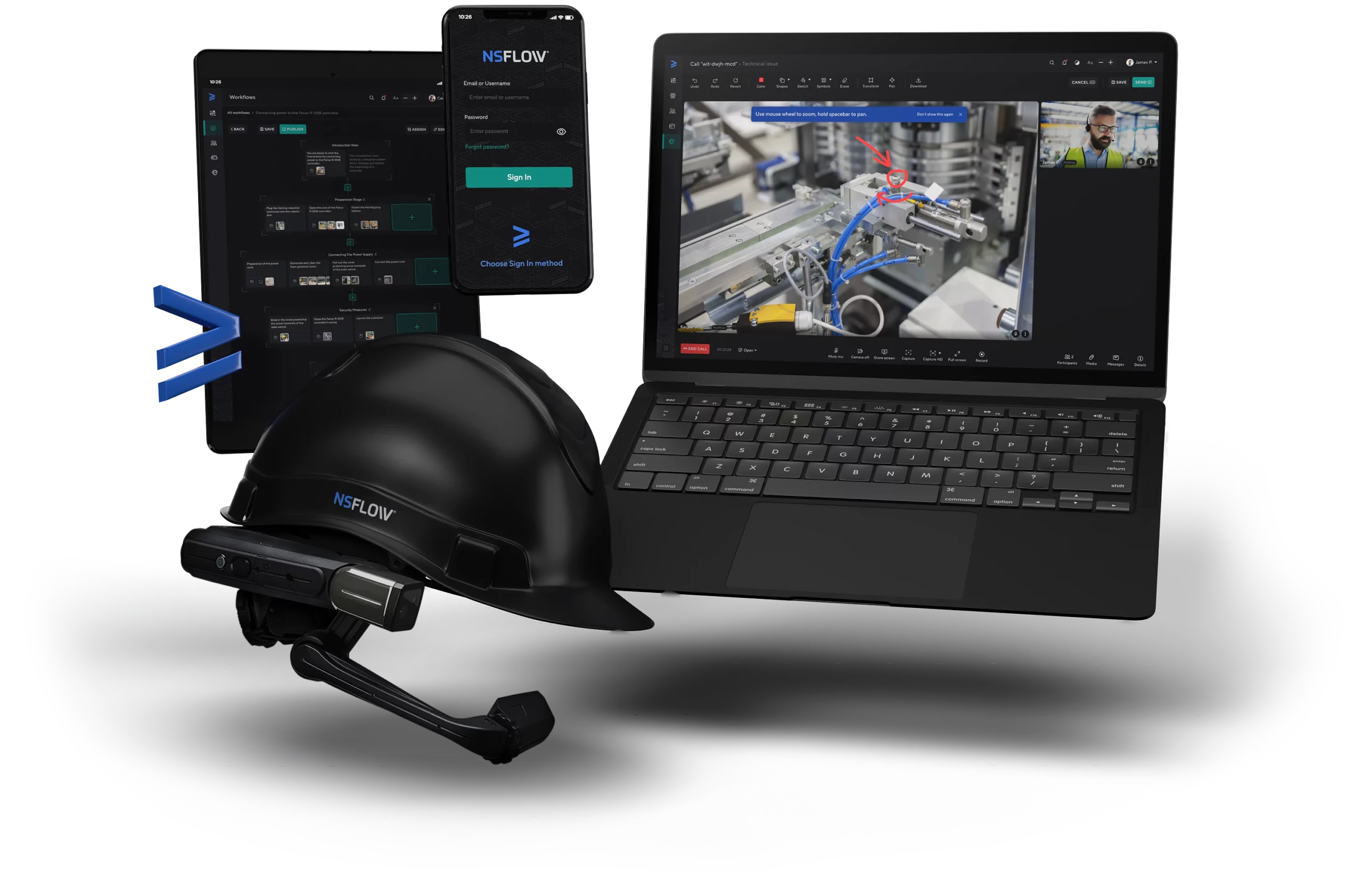 Book a demo
presentation to try
Nsflow in action
Industry 4.0 and AR – a match made in the cloud?
Because you know, clouds are typically in the sky, also known as heaven… ok, we'll show ourselves out. But only after we wrap up on the value of augmented reality for Industry 4.0.
AR has already been recognized as one of the most relevant technologies for global advancement. Enabling users to experience the digitally upgraded real world is the key to achieving results unknown a decade or two ago. To be more precise, AR's value is estimated to reach US$31.12 billion this year, making it one of the most essential technologies in terms of industrial relevance.
Augmented reality for industry usage is already happening. Don't miss out on the chance to adopt it before your competitors do. See how various industries incorporate AR in their processes and join the revolution.