The growth of new technologies and solutions causes uncertainty among the people involved. Fear of the unknown is understandable, especially for those who don't follow the newest inventions and their applications. Nowadays, changing the way companies operate is a necessity, allowing for maintaining competitive advantage and keeping pace with the dynamic business environment.
What are the most common concerns preceding the adoption of AR? (and how to overcome the fears)
Fear of new technologies
Most people suffer at least slight nervousness when forced to use new technology, according to some experts. Technophobia, the fear of technology, is the general anxiety caused by advanced devices, especially computers.
The fear of novelties can inhibit beneficial changes. As such, concerns regarding the implementation of augmented reality and related devices can be an obstacle in modern industries, adapting to Industry 4.0. Companies behave conservatively in introducing innovations in their processes, approaching novelties with caution. Vital changes should be introduced gradually rather than rapidly, as revolutions don't serve business goals best.
Gradual implementation of AR platforms and related equipment should give employees the time necessary to familiarize themselves with the all-new measures. Granting staff the opportunity to learn and understand how AR works and what goals it's meant to help achieve improves the adoption of new technology.
Fear of change
The only constant in life is change, as the aphorism attributed to Heraclitus, the great Ancient Greek philosopher goes.
Companies need to adapt to the requirements of modern markets. Digital transformation is a long-term process, affecting the enterprise and its operations. To achieve the set goals current processes need to be reorganized, changing the way activities are performed. Even though leaving the comfort zone causes uneasiness, the vision of future amenities should overcome the doubts.
It's the executives' and managers' responsibility to assess the ongoing dynamics and present the potential of introduced solutions in a way comprehensible to the staff to dispel their concerns. Especially among employees with a long track in particular positions, used to traditional ways of carrying out processes, the more conservative approach may prevail. To bring the process closer to success, emphasize the benefits most felt by staff. Wisely presented advantages should get through to workers, especially when backed by hard data, implementation success stories, and tangible advantages within employees' reach.
Fear of costs
State-of-the-art technologies come at a price, but – just like with everyday devices – their cost drops over time. This is double good news, as augmented reality can be used with widely available devices like smartphones and tablets. They might present lower usability but can be sufficient in industrial conditions, depending on needs.
Purchasing dedicated hardware, especially industry-ready, heavy-duty AR wearables is a relatively costly move. Before forking out the noticeable amount of money, business clients can try out an augmented reality platform along with a device suitable for their operations. A free demo lets novices experience the potential and find out whether a wearable piece will be the right solution for the enterprise.
A one-time payment, even a big one, will be amortized over the period the device will serve the company. Putting together a spreadsheet with predicted savings in areas supported by AR will help assess the difference. To be fair, adding up training costs, human errors and their consequences, business trips, avoided production downtimes make up for significant sums – all the occurrences have their costs. AR is not a miracle solution, but it is worth the investment, improving various areas in industrial companies.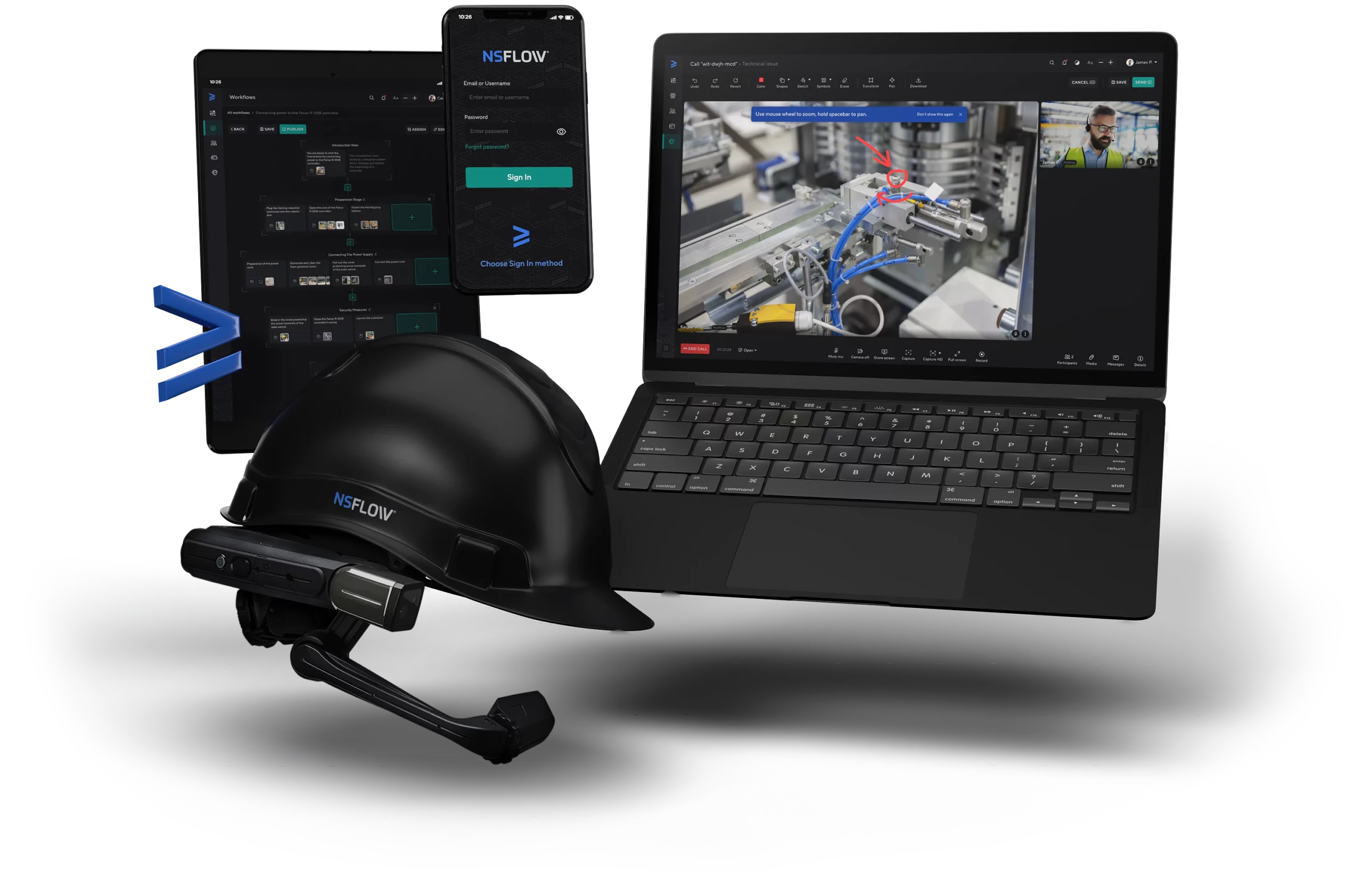 Book a demo
presentation to try
Nsflow in action
Start with a strategy
Although the implementation of AR in the enterprise is well-intentioned, it still requires a plan in case anything goes wrong. Changing the way companies operate is a considerable step and as such, shouldn't be done hastily, without assessing all chances and threats.
Aside from boosting operations on their own, the adoption of AR needs to improve employees' experience. Being the technology that streamlines the processes they're involved in and improves performed actions, augmented reality is an ally to on-site workers.
Prior to AR implementation, executives should consider the way of presenting future benefits perceptible by employees. What we swear by is the prevalence of merit and substantive arguments instead of hyping up a novelty. Better knowledge management, improved, real-time communication with experts, less nuisance caused by machinery failures, enhanced on-site safety – rational claims address the facts, not feelings. As such, the arguments are more likely to get employees accustomed to the upcoming changes.
How to leave behind the concerns and start a new chapter in your industry?
You may ask, "Do I need this change? Does technology really alter the way industrial companies operate, making them thrive?"
The short answer is yes, yes you do! For a more in-depth elaboration on the second question, see our other articles to find out about e.g. How to improve industrial processes with augmented reality?
Since we already agreed on the fact that the adoption of the newest technologies is inevitable, we're here to help you with the possible struggles. See our case studies, presenting how augmented reality helped in executing industrial processes.
Now that you know more about overcoming the fears of your employees and managers, do you want to know more about the implementation of augmented reality in your enterprise? Download the free ebook and see how to tackle other challenges related to AR adoption.
Already finished reading and ready for more? Try our free demo, and experience the AR-powered transformation in your industry.