Augmented, assisted, and mixed reality can be used for entertainment, but their true potential is visible in industrial applications. The industrial field is widely adopting AR to improve business and manufacturing processes.
Contrary to the complex redevelopment of production plants and comprehensive replacement of used machinery, the adoption of augmented reality is the least equipment-demanding improvement a manufacturing company can choose when aiming at streamlining processes.
Why augmented reality?
AR allows performing real-world actions with the addition of virtual elements without cutting users off from the outside world (like virtual reality does). Employees using AR devices in the workplace are fully aware of their surroundings and occurring events. Technology enables users to perform actions on real-life equipment, observe and respond accordingly. Preparation of the augmented reality processes carries fewer costs in comparison to VR, creating a smaller threshold to overcome, especially for smaller companies.
Cost reduction is one of the main arguments in favor of AR, as its implementation allows for cutting down expenses of the workload of trainers in employee onboarding, reduced number of downtimes, designs brought faster to life, and improved safety of carried out processes, industrial companies. Additionally, with the use of AR-powered solutions companies reduce costs of travel, usually related to training conducted in distant locations, accommodation of visiting experts and technicians, which can carry out their tasks remotely. In short, with augmented reality solutions, industrial companies can achieve their objectives faster and cheaper.
How can AR improve your industrial processes?
Remote support
AR enables fast and easy access to the company's experts, regardless of their location. Remote support is invaluable in handling especially rare, unusual maintenance issues, not covered by regular service procedures. No matter the location of experts, immediate help can be provided to on-site workers once the need is recognized.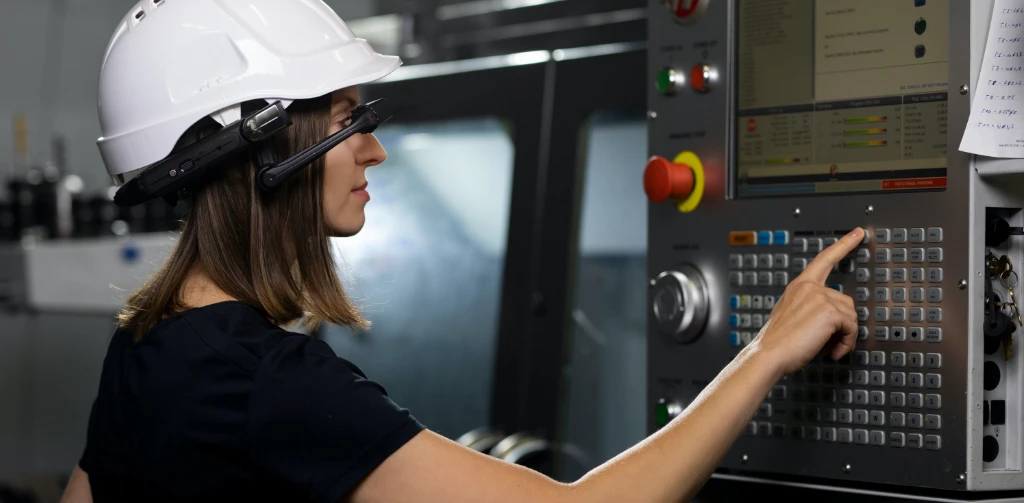 Reduction of assembly errors
Performing assembly using AR simplifies the process and reduces the risk of human error, unavoidable in traditional production lines. Step-by-step instructions displayed for employees contribute to a lower frequency of mistakes and improved efficiency of production. One of the widely acknowledged examples is the adoption of AR in Boeing manufacturing facilities, which enabled a 40% increase in worker productivity and reduction of time necessary to complete tasks by ¼.
Minimizing risk
Whether it's medicine production, smartphone assembly, or the most challenging environments specific to the energy, oil & gas field – industry-specific risk occurs everywhere. Augmented reality applications, once they pass safety standards, provide additional protection for employees in hazardous conditions. AR apps help detect inaccurately secured equipment, too high temperature, or pieces under high voltage within the reach of employees.
Inventory management
Efficient inventory management leads to proper resource utilization, contributing to better financial results. Crucial for strengthening the supply chain, warehouse management relies on particular processes: order picking and allocation, material handling, inventory control management. AR answers the needs with digital, interactive visualization of the inventory space, locating stored resources, and guiding warehouse staff straight down the most time-efficient path between racks and shelves.
Predictive maintenance
With the growing involvement of advanced machinery in industrial processes, continuous production flows require the utilization of predictive tools to determine when maintenance should be performed. AR can be used to spot divergences and abnormalities, undetectable by the human eye, yet indicating a forthcoming disturbance in ongoing operations.
Hands-on training
Equipping employees with AR devices enables conducting on-the-job training based on unified test materials, executed by the trainee independently, solely under remote supervision. Additionally, AR enables the creation of digital twins, virtual clones of machinery, or other physical assets that help employees look "under the hood", without disassembling the objects in question. By utilizing 3D models trainees acknowledge how the machinery is built, learning maintenance and service procedures.
Improved knowledge management
Supplementing on-the-job training and further competence building, augmented reality contributes to efficient knowledge management within the company. Using digital solutions enables unified training for achieving a consistent knowledge and skills level among employees, reducing the time necessary to search for required information.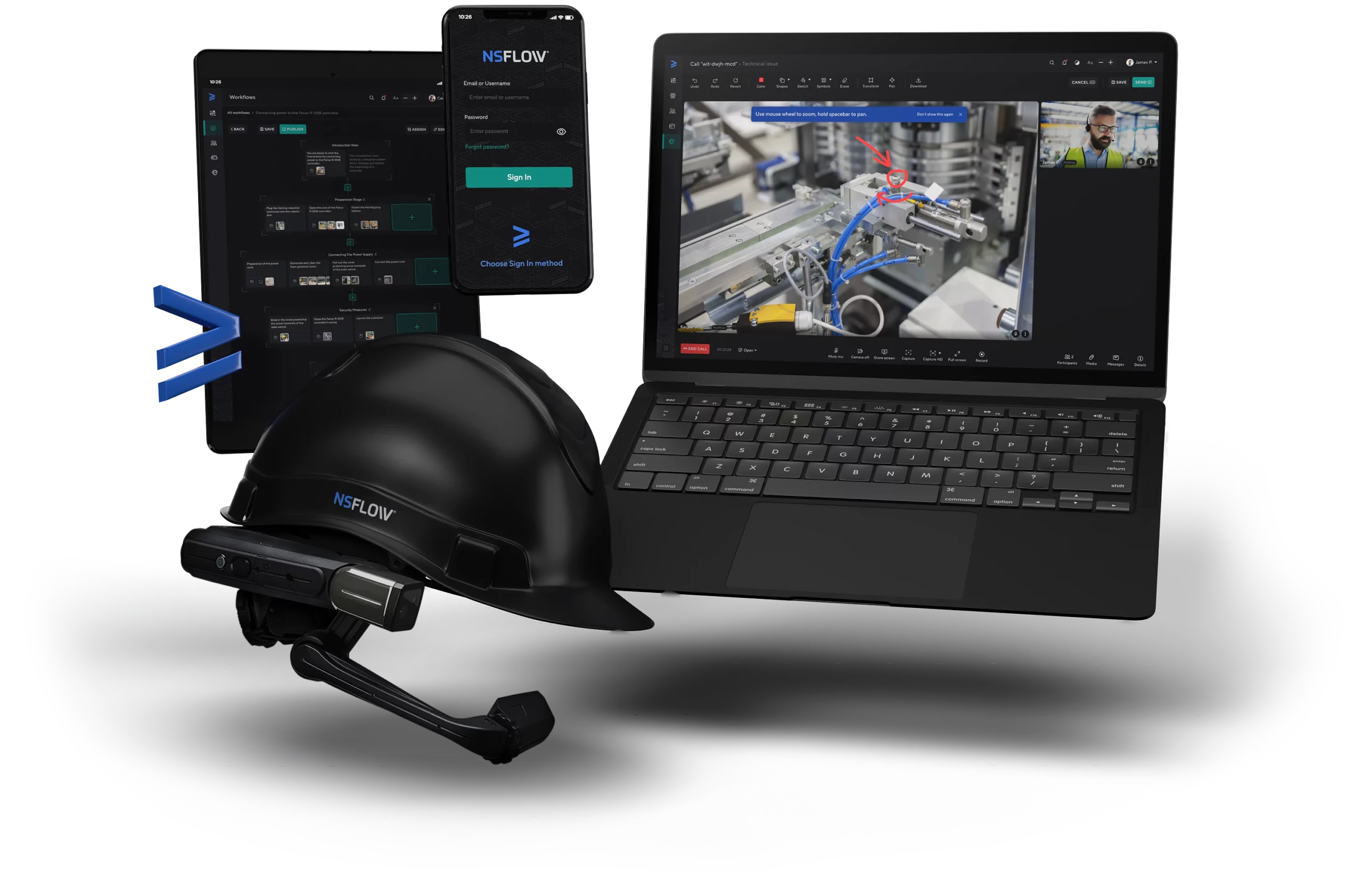 Book a demo
presentation to try
Nsflow in action
Quality & testing
Augmented reality plays an increasingly important role in industrial operations previously associated with on-site, in-person experiences, allowing remote factory acceptance tests conducted from any place in the world. Quality is ensured through set sequences of actions, and as they are carried out, the system gathers and verifies information, assuring employees that all areas are covered. As a result, the process is executed in a consistent, repeatable manner eliminating human error, supporting employees in regular quality assurance actions.
While the above areas are well recognized as crucial to industrial processes continuity, security, and competitiveness, adding the augmented reality touch still may seem abstract to many. AR is a constantly developing technology, and its impact will become only stronger. Adopting the right solution will contribute to maintaining the high quality of performed operations and remaining at the forefront of the industry.
Do you want to know more about how augmented reality can improve your processes? Download the free ebook, grab a cup of a nice, hot beverage of choice, and read the answers to the most common questions, troubling industry professionals in the topic of AR adoption.
Already finished reading and ready for more? Try our free demo, and experience the AR-powered transformation in your industry.